Before we get into the Cialis back pain issue, I want to
share a brief story with you…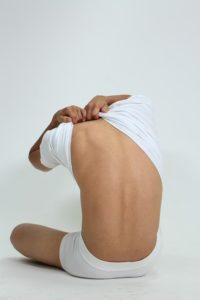 In the interest of science, I decided to take a dose of Cialis myself about two weeks ago.
I've never used an ED drug before, but I figured, if I was going to write the intro to this article, I may as well have some first hand experience.
It was easy to cop a dose because several of my friends use the stuff, and most prefer Cialis over Viagra and Levitra.
And I will admit that the wood it brought on was impressive, but I can achieve similar results while following my herbal cycle protocol.
And these herbs actually make me feel good after I use them, physically AND mentally, but the Cialis was lacking on both counts.
The number it did on my mental state was the worst…  
I was moody, anxious and irritable, so even though I had the tool for a whopping bedroom session, I couldn't achieve the proper mindset to enjoy it.
Why?
Because good sex is more about your mental game then the mechanical aspects of an erection and while on the drug, my game was completely off.
I remember going to a live sex show in Amsterdam 12 years ago…
And the dude on stage, who was obviously using something too, was just pumping away with this bored expression on his face.
This pretty much describes the way I felt when I put my tool to use while on Cialis
I lacked creativity, was mildly agitated and failed to pair bond with my girl, which is what keeps them coming back for more.
In other words..
It felt like a bad one night stand, and left both of us with no sexual afterglow effect and very little motivation load up and do it again.
And while I didn't suffer from back pain, which is the subject of this article, I had a slight ringing in my ears, an elevated heart rate and a dull ache in my right leg.
(total failure)
Anyway….
If you wound up here after googling Cialis side effects, or something similar, and would like to start achieving erections the way mother nature intended, you should start by downloading this (on the house).
Now here's Jason with more info on Cialis and back pain…
Cialis Back Pain – Part 2:
Let's be honest with each other.
If things related to your bedroom shenanigans cause you a little muscle soreness, that's more than alright.
It's cause for celebration and bragging.
Unless it's not caused by getting down to business, but rather by the big business of boner pills.
A statistically significant number of Cialis patients have reported back pain from a variety of bad things the medications did to their bodies.
To make things worse, lower back pain makes it hard to want to have sex.
That means the very pills people take to have more sex may actually make sex less likely to happen.
It's one of the many downward spirals of big pharma ED medications, and one you should avoid under almost all circumstances.
Here's the basics about what you need to know about Cialis and back pain. While we're at it, we'll look at a few of the other libido-killing side effects of Cialis and other drugs of its ilk.
Why Does Cialis Cause Muscle Pain?
Medicine knows beyond a doubt that Cialis causes pain in the large muscles of the back, butt and legs for some patients (source).
It's less clear on what might be causing it, but the most supported theory is vasoconstriction.
Cialis works by altering how your blood flows, thus enabling the engorgement of tissue that makes erections happen.
It increases your blood supply, especially in the larger veins around your groin — the legs, butt and lower back.
Imagine a rubber hose flooded with more water than it can handle. See how it stretches like a water balloon?
If it had nerves, how much do you suppose that would hurt?
That trouble with blood flow is why Cialis and other ED medications are contraindicated for people on medication for high blood pressure or other circulatory problems.
They mess with your circulation so much that, when combined with other such medications, they can cause life-threatening complications…
In one study, up to 10% of healthy patients experienced muscle pain from vasoconstriction that has been described as being painful as the bends…
Tolerability of tadalafil is problematic: with daily ingestion, 7% of patients in the 10 mg group discontinued treatment owing to side effects, 10% at 25mg, 19% at 50mg and 29% at 100mg.

With ingestion on demand, tadalafil caused muscle and back pain in over 10% of those treated and dyspepsia and headache in over 25% (source).
Cialis and Indigestion
Traveling 180 degrees to the other side of the lower torso, many Cialis patients have also reported severe indigestion, heartburn, sour stomach, loss of appetite and similar symptoms you hear about in Pepto Bismol commercials.
These can be as hard on your libido as lower back pain, with the added potential problem of malnutrition.
One common side effect of cialis is reduced tone in the lower esophageal sphincter, a group of muscles where the esophagus meets the stomach.
Those muscles regulate how food enters the digestive tract, which of course sets the course for most of the digestive process.
Reduced tone means the muscles are less able to do their job (imagine the slack muscles of your legs when you walk downstairs after squats day at the gym).
If they can't do their job, your stomach and intestines have a hard time doing theirs.
End result: upset tummy in every color of the rainbow. If you're over 60, you even have a higher risk of developing a hernia while using the drug.
Since stomach problems make it hard to be horny, this is another way that Cialis has the opposite effect on your sex life from what Madison Avenue advertises.
Other Cialis Side Effects
As though excruciating joint pain and digestive problems aren't enough, Cialis patients have experienced a wide range of other unpleasant side effects.
The most common include:
Headaches, caused by similar issues as the back pain. Only the stretched vein is in your neck or your brain. This means pain so bad that it sometimes causes temporary blindness.
Sinus Problems from drying tissues in the sinuses, is a common side effect of many drugs of this kind (and lots of others).
The dry sinuses are at best sore and irritated, and at worst subject to acute infections since the dry tissues don't have the protective mucous layer that blocks out bacteria.
Abnormal Liver Tests happen because Cialis is processed through the liver. 
Each dose leaves a little behind in that important organ. Enough Cialis left in there will cause abnormal tests, which can indicate potential organ damage.
Redness of the Face and Neck is another symptom, caused by elevated blood flow to these two areas.
Just like when you flush if you've been exercising, the same changes to your blood flow (though caused by pharma products rather than healthy exercise) will make your face and neck red.
Not exactly life threatening, but it can be embarrassing.
Vision Problems from blurriness to full loss of vision occur rarely, but are serious when they do appear (source).
Again, this comes from the changes to the circulatory system created by Cialis.
Just as high blood pressure can cause temporary vision problems because of changes to blood flow through the eyes, Cialis can cause the same issue through its own impact on your circulatory system.
The changed pulse alters the curvature of the lens in your eyes, which changes how light passes through them.
This can combine with reduced moisture in the sinuses to leave you more susceptible to eye infections, such as pink eye.
Some very serious, but fortunately very rare, side effects have also been reported.
These include difficulty breathing, seizures, stroke, memory loss, numbness in the extremities, angina and faintness or dizzy spells.
Cialis Back Pain – Conclusion:
Cialis and drugs of its kind have been touted as miracle cures for erectile dysfunction, but there's no such thing as a free boner.
Like most big pharma products, Cialis delivers on its promise at the cost of damaging other processes.
In this case, most of those processes are just as important to making sweet, sweet love as getting an actual erection.
And if this Cialis back pain problem leaves you in too much pain, or too sick, to make love…all the erections in the world won't help your sex life.
The good news here is many supplemental and lifestyle options treat not just the same symptoms as Cialis, but they go to the root of the problem causing your ED in the first place.
Before considering a prescription drug like this, I recommend looking at these more natural cures first.